08. 02. 2021
Instead of great success we have experienced great entrepreneurship lessons (for now). It also transformed me, a person who has never worked in IT before, into the app project/product manager.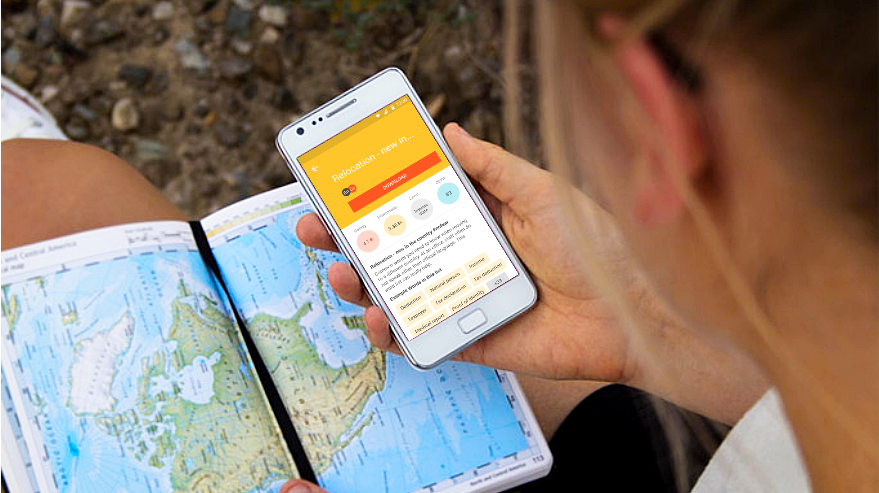 I once took part in a workshop, which encouraged people to invest in their idea and start their own project. But as Forbes reminds us "Great idea is not enough". We knew it but we also believed it can't be that hard. Others though so, too. Didn't they?
In 2017, I accidentally found a job in a young, Czech IT company for mobile app development. It had a friendly approach, almost no hierarchy, and, surprisingly, right from its start in 2014 a remote-first team (all of its 10 members have been working from home).
I said "accidentally" because back then I was still using an old "dumb" phone by choice, ignoring any "smart" apps and gadgets.
It was just an administrative job so the need for mobile app literacy wasn't probably a must-have but I still rather won't ask my interviewer-colleague what he thought about me back then.
And here, the entrepreneurship lessons begin.
Flashcard App Idea Was Born And Passion for Our Own Product Rose
The company came into existence in 2014 together with an idea to have its own product along with creating apps for customers. We, in SKOUMAL, have been successful with turning ideas of others into working products and technology problems into technological know-how.
Why not educate our junior developers on our own product? While creating our own Flashcard app Vocabulary Miner, they would learn to code better and the users would learn vocabulary.
We will learn by teaching others. Perfect!
The plan was to create a simple intuitive tool for teachers to teach vocabulary and students to learn it innovatively, interactively, and without so many distractions that other Flashcard apps supported.
That was the story of 2014. But…
Piles of Man-days, Scattered Focus, Unfinished Ideas
I joined the team in 2017. Besides administration, I was also introduced to a very small translation task on the internal project — Vocabulary Miner laying sideways for idle hours of developers in strict opposition to bold 2014 plans.
As I started to work on translations in the app (there were only Czech and English at that time) — I found out they were actually user-UNfriendly, technical and sometimes with typos or simply completely wrong.
I would dare to say now that even MVP (Minimal Viable Product) had not been finished by 2017- 3 years after the app was first launched.
3- Years-Old Product Without Revenue
There was no marketing or brand awareness except for a few Czech press releases. Although, the app was in both Stores, it was not making any money since the business model wasn't finished.
It was all only the tip of the iceberg I was gonna hit when in 2019, I happened to be trusted with the product/project management of Vocabulary Miner.
I had to be (and probably still am) the most inexperienced app product manager ever. I haven't even had a smartphone a year before and suddenly I was supposed to lead a yet unsuccessful mobile app that had already spent over 46 000 USD. Go girl!
First entrepreneurship lessons in our own product development learned
1|Think it trough. Get paid soon.
Startupists believe that "If you are not embarrassed with your first product version you launched too late." But you should not be embarrassed for 2 out of 3 main development years because you didn't think it through with the business model.
You keep postponing the paid part of the product and now costs are high.
In 2018, we finally launched the Premium model with thousands of word lists and then relaunched it again with a better pricing and screen to at least have a chance to cover the costs.
It seems crazy but if it is not your main product (since a service — software development for customers is) you don't feel so much urge to monetize it.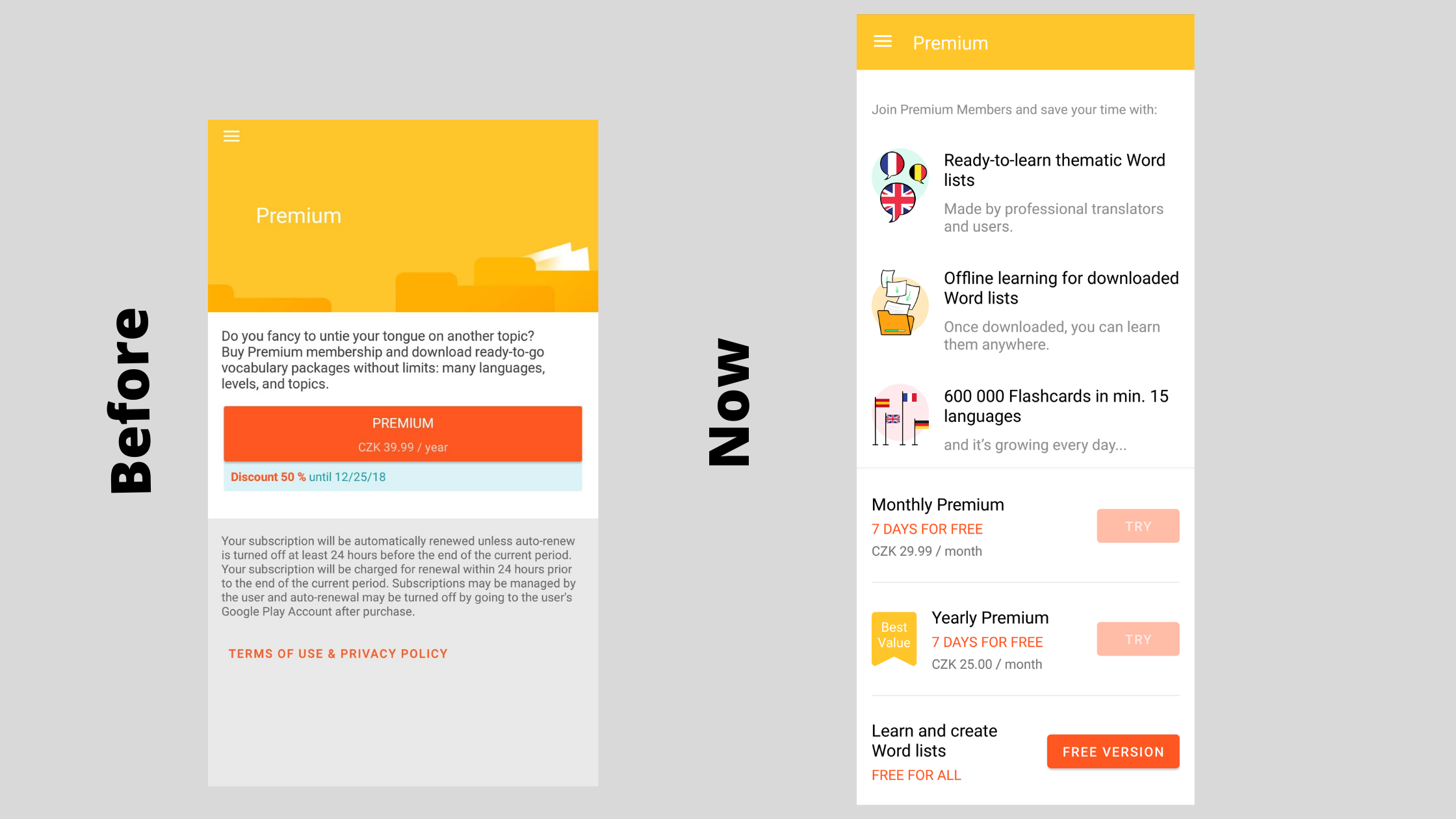 2| Check your finances.
Our company was doing great. However, the internal product wasn't. We believed it would turn around.
We didn't checked the numbers regularly trying to optimize them by setting real goals. Internal project expenses should not be out of your focus. It can be your business child but be aware of how much it costs you. Intuition is a great tool, but data is greater.
3| Stick to the product/brand principles.
Or better said — have principles to build the product around. Only after 3 years of development, we finally created value within based on Lean Canvas and #saymore and "keep it as simple as possible" motto that makes the core of the product for us and users, too.
4| Hire professionals, at least sometimes.
After a couple translating fails we started to cooperate with translators to review and translate the app (now we have 7 language settings and Word lists in around 20 languages so far).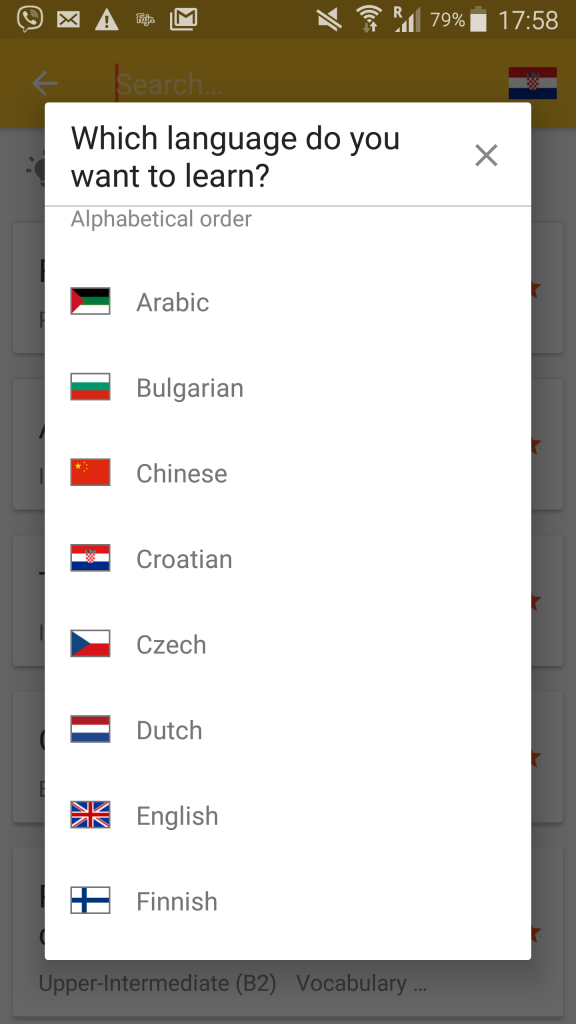 5| Know your competitors very well and develop your product "against them".
In 2019, it was the first time we looked into our competition for real. Sure, we knew about Memrise, Quizlet, and Duolingo before. We knew we wanted to "keep it as simple as possible." We covered Czech language with much bigger precision than many of these apps, since we are based in Czech Republic.
But such shallow research isn't enough.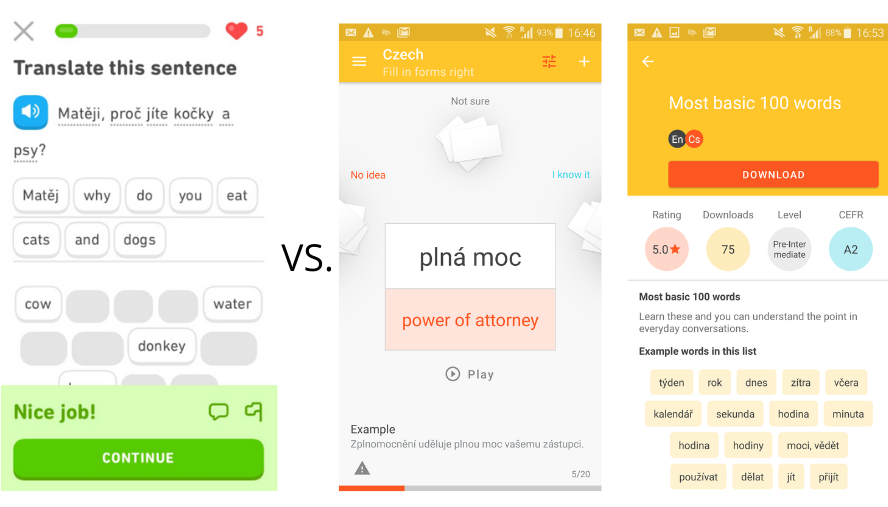 We really looked at our competitors for the first time in 2019 and in 2020 Ultimate Guide to Find the Best Flashcards Apps for Learning Vocabulary (for you). Then we based our further product development on that.
Too many plans and ideas without true leadership
During 2014 – 2019 we were doing a bit of user testing on Vocabulary Miner, a tiny bit of marketing, and too much programming. Project manager was no one and everyone in their dull time. New plans and new features were coming and going.
6| Don't let your idea rot.
Maybe your internal product is not the highest priority but if it's just lying around somewhere without leadership, it is probably losing its meaning and costing you money without a better future ahead.
Ask yourself often, where are you heading?
Once again, think it through in the beginning.
What will bring you money and when?
Set goals.
7| Have someone who believes in the project and can see its future or call it quits when the time is right.
There are days when the only thing that will get me through frustration is a song from Zootopia – Try everything.
Marketing & Sales limping behind
In the beginning, some of us believed that a good product finds its customers with just a few marketing bits such as a press release a year. That belief turned out wrong. A big one from entrepreneurship lessons…
Now, we are starting to work hard on those time-consuming "soft" parts like marketing, content and sales instead of just believing in the app's ability to sell itself.
I really think that for every software-developing company like us, there is a huge difference between creating a customer's product and creating an internal product.
A great challenge is to do both, simultaneously.
Vocabulary Miner as an internal product needs a never-ending after touch — marketing and sales. And we didn't have any experience in these. We were just a bunch of developers and one inexperienced woman…kind of like The IT Crowd.
8| Spend at least 20% of developing investment on marketing.
Spend more on it if you can. Talk to people about what matters to them, study it, and then talk to people again through the media.
In 2019, we started with our blog on Medium (in 2020 we have our very own) and we kicked off Instagram and Facebook. We started coming out to the world. My colleague Viki and I attended an international language-oriented fair in Berlin – Expolingua, we are cooperating with community teachers, and we have articles published online. And it is slowly working.
9| Go out into the world. Get a passionate sales person onboard.
Make calls and presentations. Ask, ask, ask. Talk, talk, talk.
Failure seems to be the end of the road but we are still better than 90%
More than 9 out of 10 start-ups fail within 10 years. In 5 years the chances are 50:50. It has been 6 years from the very beginning of our own startup idea – Flashcard app. We might not have 4 years to go or fail. But we tried. Entrepreneurship lessons never stops.
The app has been discovered by users in over 40 countries all without paid ads. We have stick to our principles. Yeah… these are lessons learned in entrepreneurship.
10| Don't call it quits that easily.
Take time to think things through. In the beginning and in the end. So if you have a big entrepreneurship dream, prepare for great entrepreneurship lessons. I am not giving up yet because I think we are doing a great job now and we have learnt it the hard (unforgettable) way. 
"We are making money, finishing a really good product. It taught many developers to code better. It taught me everything I know about marketing and about app product management. It taught me to talk with the team. It taught me that business is a creative and courageous field. It taught me to go into an arena as Brené Brown says."
– I told myself.
To tell you truth, getting onboard in the middle of a sinking ship inexperienced…is one of my stupidest and courageous ideas ever.
I am hitting that iceberg really hard…and learning a lot big time. Yes, we could have prevented all the failures mentioned above and be better. But actually, we couldn't have. Because we were learning on the go, growing up, although a bit painfully, but without outside investment or agency. We strived and learnt A LOT.
I, the app product/project manager and marketing explorer built only on trial and error, am not sure if I get another 4 years to go. For now, Vocabulary Miner achieved one of its goals — We learn by teaching others.
If we fall into 90% of startups, I can try better next time. And that is the biggest one of entrepreneurship lessons.
What is the fuzz about? Here is a short preview of the app: