01. 02. 2021
The Flashcard maker app Vocabulary Miner by Czech SKOUMAL Studio helps memorize vocabulary that the user really needs. Now, topical Word lists tailored to the needs of expats and travelers are available in 12 languages. Users can effectively learn Czech, Serbian, German, English, and other languages through Flashcards.  
PragueMorning, Brnodaily and Kafkadesk – Czech online expat media – also find Vocabulary Miner quite helpful.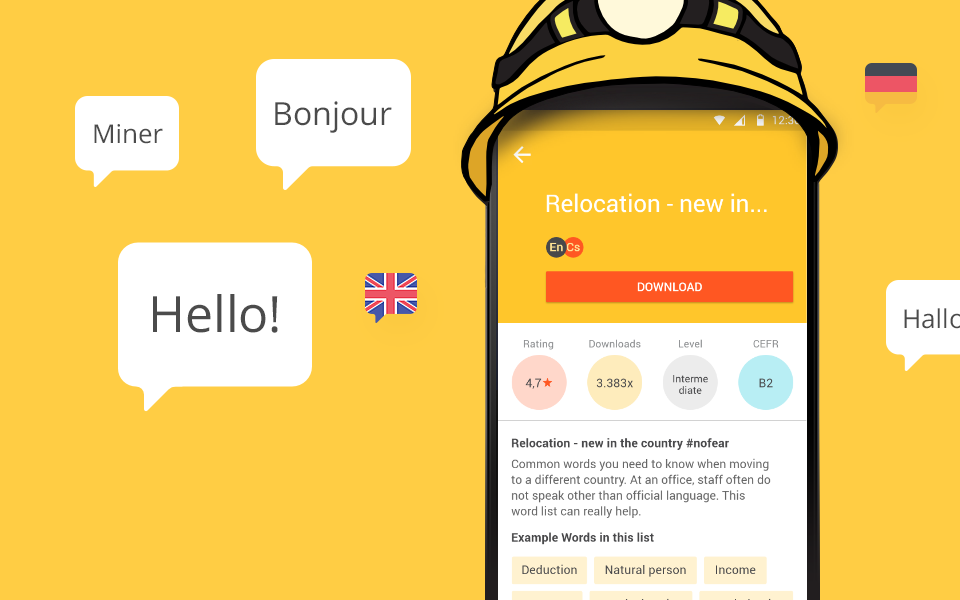 Users can create Flashcards for their own vocabulary lists, make them accessible for others by publishing, and download ready-to-learn topical Word lists. Zuzana Pápayová, the project coordinator, explains the rationale behind the idea of focusing on expats and travelers:   
"Anyone who has ever been to a foreign country knows how confusing it can be without knowing a single word of the local language. Learning just basic vocabulary already helps overcome the fear of speaking and prevents misunderstandings. You´ll easily fill in forms, explain the pain at the doctor's, and you'll be free from shopping with Google Translate."
Database full of useful vocabulary
Users can find this kind of vocabulary in the app when entering #saymore in the search field. The information about new Word lists will be available on Vocabulary Miner's Facebook page.
The open database consists of more than 9 000 Word lists with more than 300 000 Flashcards logically organized according to level, topic, and language. They are made by professionals and by our members.
This vocabulary trainer is also suitable for those without mobile data and/or for those whose English has become rusty. Vocabulary Miner works offline and has 7 language settings: English, German, French, Spanish, Polish, Czech, and Slovak. All vocabulary is available in at least 15 languages, e.g., Czech, English, German, Croatian, Polish, Ukrainian, Russian, Serbian, Turkish, Slovak, Spanish, French, Latin, and Italian.  Any user can easily create their own language or Word list.
Vocabulary Miner offers
A large vocabulary database

Offline mode

Create your own vocabulary

Import and export of words via complement Web App: https://app.vocabulary-miner.com/

Many topics, languages, levels

Language switcher

Pronunciation

Statistics

Synchronization among devices – iPhone, iPad, Android

Data backed-up on server

No ads
Price and availability
Free in App Store and Google Play. Premium Membership with unlimited access to all Word lists for  €0.89/month.
Languages
Suitable for every language. The app communicates with the user in Czech, Slovak, English, French, German, Spanish, or Polish.
Press Kit
Find a list of languages and Word lists, pictures, press releases in other languages and other in here.
How was the first year of Vocabulary Miner's existence?