15. 11. 2019
Listed among the best app developers in the Czech Republic, we're excited to announce that we've won a 2019 Clutch leader award!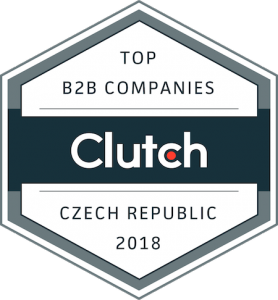 Known best as the leading platform for ratings of B2B service providers, Clutch reviews help businesses connect with the best-fit agency for upcoming projects.
By giving buyers more detailed information on projects each vendor has worked on, like cost, scheduling, project management, and results, Clutch helps create stronger and more effective business partnerships.
5-star rating from our clients
It is an honor to be selected for this award because we were judged largely based on how our clients rate us. We're proud of our team, who has earned a perfect 5-star rating! 
"Being recognized by Clutch strengthens our attitude to deliver real value even more. It is the space to evaluate our connections and projects into details that matter to both, customers and us and see how relevant our business is."
–Vladislav Skoumal, Founder of SKOUMAL, s.r.o.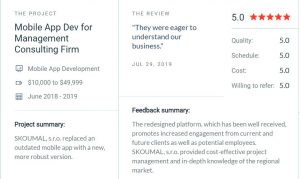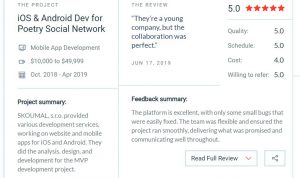 With our close attention to detail, we know that precision is what is going to make our apps and our partners stand out. For a sophisticated, simple, and easy-to-use site, look no further.  
We're thankful to the Clutch team who has featured us as a leading app developer. You too can expand your audience or continue your research for your next partner on Clutch's sister sites, Visual Objects and The Manifest.
If you're ready to start your next project, reach out to us at skoumal@skoumal.com. You can find our contact information on our website.